Design and Fabrication
At Bickers Lifting, we specialise in the expert design and precision fabrication of lifting solutions. From robust Lifting Beams and agile Swift Jibs to advanced Crane Systems, we merge engineering excellence with craftsmanship. Whether you require standardised equipment or bespoke custom creations tailored to unique challenges, our dedication to innovation and quality ensures you get the optimal lifting solution every time.
---
LIFTING BEAMS
---
Bickers Lifting Ltd offers a comprehensive suite of services that include the design, fabrication, testing, and certification of lifting beams, spreaders, and bespoke appliances. Their expertise extends beyond mere construction, encompassing detailed analysis and optimization. This may include performing stress calculations to assess the structural integrity and using Non-Destructive Testing (NDT) to identify potential defects without damaging the equipment. By combining these engineering and testing capabilities, Bickers Lifting ensures that their products not only meet specific client needs but also adhere to the highest standards of safety and performance.
Our service offers tailor-made solutions for designing and fabricating lifting beams, essential for safe and efficient heavy load handling. We combine engineering excellence with advanced fabrication to create compliant, durable, and efficient lifting beams.
Features:
Personalized Design: We create lifting beams customized to your load specifications and lifting requirements.
Safety Priority: Our designs adhere to industry standards and safety regulations for secure load lifting.
Material Expertise: We select materials based on load demands and environmental conditions for durability.
Precision Fabrication: Advanced techniques ensure accurate welding, cutting, and assembly.
Quality Assurance: Rigorous checks guarantee lifting beams meet specifications and weld integrity.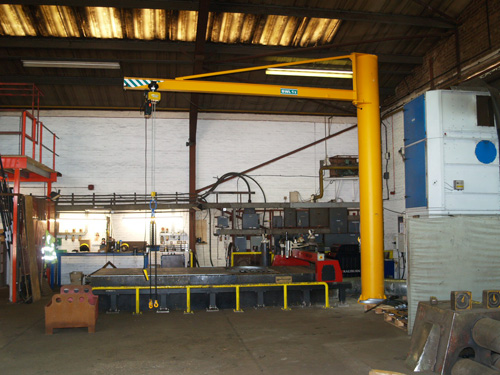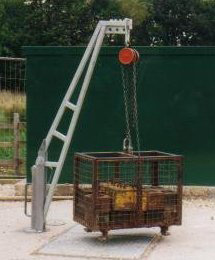 CRANE SYSTEMS
---
Bickers Lifting Ltd specializes in the design, manufacture, and installation of overhead crane systems, offering solutions that range from simple runway beams to fully automated overhead crane systems. Their expertise in these areas allows them to provide customized solutions that cater to various industrial needs, whether it's a basic setup for a small facility or a complex, automated system for a large-scale operation. By overseeing the entire process from the initial design phase through to the final installation, Bickers Lifting ensures seamless integration and a product that meets both the functional requirements and the highest standards of quality and safety.
Features:
Versatility: We offer a vast range of solutions, from simple setups to fully automated systems.
End-to-End Oversight: We manage the entire process, from initial design to the final installation.
Customization: Our expertise allows us to craft systems tailored to various industrial requirements.
Benefits:
Customized Solutions: Whether you have a small facility or a large-scale operation, our solutions are tailored to meet your unique needs.
Quality Assurance: By handling the complete process, we guarantee a product that not only meets functional requirements but also adheres to the highest quality and safety standards.
Seamless Integration: Our hands-on approach ensures that the systems we implement integrate smoothly into your operations.
Peace of Mind: Knowing that the design, manufacture, and installation are overseen by a single expert entity ensures consistency and reliability.
Choose Bickers Lifting Ltd for unparalleled quality, expertise, and a solution designed specifically for your operational needs.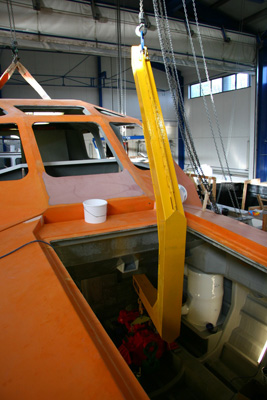 Benefits:
Efficiency: Custom lifting beams streamline heavy lifting, minimizing downtime.
Safety: Industry-compliant designs prioritize personnel and equipment safety.
Tailored Fit: Customization aligns lifting beams with existing processes.
Durability: Quality materials and fabrication ensure longevity.
Compliance: Designed to meet industry regulations for versatile applications.
For a safer, more efficient heavy lifting solution, choose our Custom Lifting Beam Design & Fabrication service.
SWIFT JIBS
---
Bickers Lifting Ltd extends its expertise to the design, fabrication, and installation of various types of swing jibs and davits. This ranges from galvanized pump davit arms specifically crafted for the water treatment industry to substantial electric swing jibs suited for broader industrial applications. Whether it's a small-scale utility or a significant industrial tool, Bickers Lifting's multifaceted capabilities enable them to create tailored solutions that align with unique industry requirements and standards.
Overview: Bickers Lifting Ltd excels in crafting, installing, and designing swing jibs and davits for diverse applications. From galvanized pump davits for water treatment to powerful electric swing jibs for industries, our tailored solutions meet unique industry standards.
Expertise:
Customization: We design swing jibs and davits to match specific utility or industrial requirements.
Versatility: Our range spans galvanized pump davits to electric swing jibs, catering to various needs.
Compliance: Adherence to industry standards ensures safety and efficiency.
Advantages:
Industry Know-how: We understand different sectors, delivering solutions aligned with their demands.
Tailored Designs: From compact utilities to industrial giants, our designs suit diverse needs.
Safety Priority: Our commitment to standards ensures operational safety.
Flexibility: Our solutions fit various applications, boosting industry efficiency.
For tailored swing jib and davit solutions, trust Bickers Lifting Ltd. Our expertise guarantees safe and efficient lifting across industries.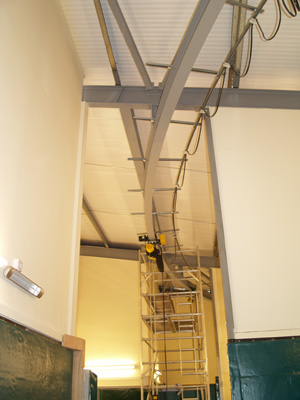 Custom and Bespoke options are available contact us and we will be sure to be able to help you!